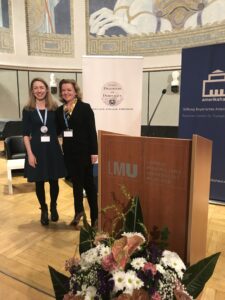 Grab your beverage of choice and join us for an hour of cheer to honor outgoing president Laura Sprague with the YAA Club Recognition Award. While we still cannot gather in person, at least we can gather virtually for some springtime laughs and good cheer (who doesn't need that right now?!).
For the ZOOM link, RSVP to bgrosserichter@aya.yale.edu 
Laura's award text:
Since moving to Frankfurt in 1992, Laura Sprague has been active with the Yale Club of Germany —
first as a "Stammtisch" regular, then as an alumni interview coordinator, and then for 23 years as the
club's secretary, which at one time involved typing hard copies of newsletters, addressing and
stamping envelopes to send to alumni in Germany. Laura has consistently stepped forward to assume
responsibilities throughout her involvement with the YCG, most recently when she took over the role
of president of the club two years ago upon the unexpected illness and passing of our prior long-term
president. As president of the club for the past two years, she supervised the awarding of scholarships
and more importantly helped streamline the official records in order to make the Yale e.V.
organization more transparent to all Yale alumni in Germany and in compliance with the German
authorities. Her consistent cheerful nature and extreme organization made meetings a pleasure. While
at Yale, she majored in American Studies and is currently a lector at Goethe-Universität.