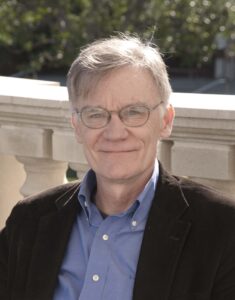 David W. Blight
Sterling Professor of History and Director of the Gilder Lehrman Center for the Study of Slavery, Resistance, and Abolition
at Yale University
Frederick Douglass: Prose Poet of American Democracy, in His Time and Our Own
As a young man Frederick Douglass (1818–1895) escaped from slavery in Baltimore, Maryland. He was fortunate to have been taught to read by his slave owner mistress, and he would go on to become one of the major literary figures of his time. His very existence gave the lie to slave owners: with dignity and great intelligence he bore witness to the brutality of slavery.
Initially mentored by William Lloyd Garrison, Douglass spokewidely, using his own story to condemn slavery. By the Civil War, Douglass had become the most famed and widely travelled orator in the nation. In his unique and eloquent voice, written and spoken, Douglass was a fierce critic of the United States as well as a radical patriot. After the war he sometimes argued politically with younger African Americans, but he never forsook either the Republican party or the cause of black civil and political rights. His life and words ring true even today, especially given the racial tension currently playing out in the United States.
David W. Blight is Sterling Professor of History and Director of the Gilder Lehrman Center for the Study of Slavery, Resistance, and Abolition at Yale University. He previously taught at North Central College in Illinois, Harvard University, and Amherst College. He is the author or editor of a dozen books, including Frederick Douglass: Prophet of Freedom; American Oracle: The Civil War in the Civil Rights Era; Race and Reunion: The Civil War in American Memory; and annotated editions of Douglass's first two autobiographies.
He has worked on Douglass much of his professional life, and been awarded the Pulitzer Prize, the Bancroft Prize, the Abraham Lincoln Prize, and the Frederick Douglass Prize, among others. He writes frequently for the popular press, including the Atlantic, the New York Times, and many other journals. His lecture course on the Civil War and Reconstruction Era at Yale is on the internet at https://oyc.yale.edu/history/hist-119. Blight has always been a teacher first. At the beginning of his career, he spent seven years as a high school history teacher in his hometown of Flint, Michigan. Blight maintains a website, including information about public lectures, books, articles and interviews at www.davidblight.com.
​Moderation: Professor Dr. Klaus Benesch is professor of English and American Studies at the Ludwig-Maximilians-University in Munich and former director of the Bavarian American Academy
The event is a cooperation between Munich Dialogues on Democracy, the Bavarian American Academy and Amerikahaus.