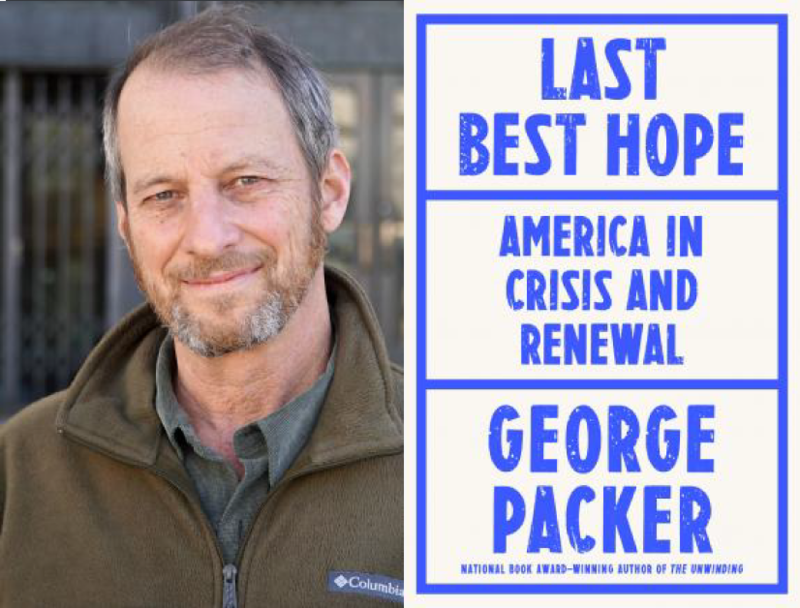 IS THERE STILL HOPE?
AMERICA IN CRISIS AND RENEWAL
How, in a few decades, did the United States transform from a broadly prosperous middle-class country, with relatively healthy institutions and competent leaders, to a nation defined by discredited elites, hollowed-out institutions, and blatant inequalities? Acclaimed author George Packer joins us to discuss his latest book Last Best Hope: America in Crisis and Renewal.
Packer offers us a riveting clear-sighted analysis of how America got here and presents four incompatible narratives that currently dominate American public life: the Free America of libertarian Reagan, the Smart America of Silicon Valley and the professional elite, the Real America of white Christian nationalism, and the Just America of #MeToo and BLM. None of these narratives, according to Packer, can sustain American democracy. Rather than despair, Packer draws on previous eras of crisis and presents a hopeful vision for how a new era of civic revitalization may bring it to an end.
By creating a fifth version of the US, the Equal America – which involves extending the New Deal to Americans in more areas of their lives, from affordable and universal health care to a living minimum wage and beyond – Americans can reinvigorate their self-government. "No one is going to save us. We are our last best hope."
George Packer, Yale class of '82, is the author of The Unwinding; Thirty Years of American Decline, which won the National Book Award. His other non-fiction books include The Assassins' Gate: America in Iraq; Blood of the Liberals, which won the Robert F. Kennedy Book Award; and Our Man: Richard Holbrooke and the End of the American Century, which won the Hitchens Prize and the Los Angeles Times Prize for biography and was a finalist for the Pulitzer Prize. From 2003 to 2018 he was a staff writer for The New Yorker. He is currently a staff writer for The Atlantic.
This event will be both in-person and online. Watch our website for more information on tickets and registration.
YouTube livestream link: https://www.youtube.com/watch?v=Gerkhb8tAwE
Note: If you are in BERLIN, George will be at the American Academy on April 28th. Those in MUNICH interested in a Yale Club lunch with George please contact president@yaleclub.de. 
Photo © Farrar, Straus and Giroux