Are you a current/past student/scholar/faculty member or friend of Yale and temporarily or permanently based in Germany? We are here to connect Yalies in Germany. We organize social and cultural and community service events, and we interview German applicants to Yale.
If you are an alumnus of any Yale school, a current Yale student or scholar spending time in Germany, or a friend of Yale, we welcome you to our activities!
Register today to receive our Club Newsletter   Join the YaleClubGermany Facebook group
Events
Our club organizes regular Stammtisch meetups in Frankfurt, Berlin and Munich, sometimes in conjunction with other Ivy League alumni organizations. We have alumni interested in organizing additional social and cultural events in Hamburg and in the Düsseldorf area.
Get involved! If you have event ideas, or are interested in organizing an event yourself, let us know!

Saturday Jun 1 14:00
Berlin
BROWN   COLUMBIA  CORNELL   DARTMOUTH   HARVARD  UPENN   PRINCETON  YALE ALL-IVY UNDERGRAD BEER GARDEN MEET-UP WHEN:         SATURDAY, 1 JUNE 2019,  14:00 WHERE:      PARK CAFÉ MUNICH SOPHIENSTRASSE 7 80333 MUNICH WHO:           ...
In memoriam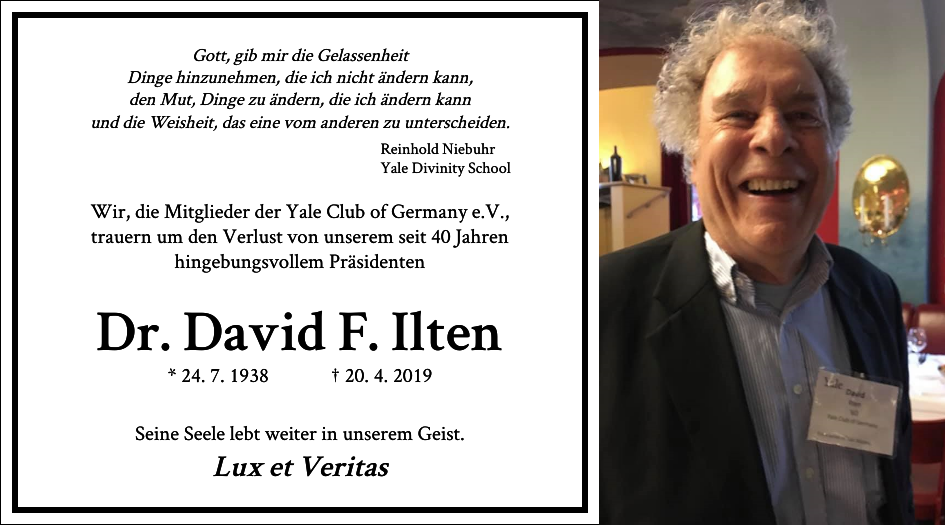 We are greatly saddened to share that David Ilten '60, President of the Yale Club of Germany, passed away on April 20 after a brief illness. David was president of our Yale Club for over 40 years and was beloved for his warmth and gentleness of character and his tireless commitment to Yale. For decades he has been the face of the Yale Club of Germany—traveling to New Haven for AYA meetings, serving as liaison for professors and singing groups, interviewing countless prospective students, sharing all his bits of Yale trivia, and welcoming new arrivals to the Yale community in Germany with kindness and warmth. He will be greatly missed, but will certainly remain with us in spirit.
Call for contributions
Our member Robert Dickler has graciously placed an announcement in the Frankfurter Allgemeine Zeitung (überregional) on Friday, April 26, 2019 in accordance with David's wish and is asking other members for contributions towards the costs. Please find his personal message and details on how to contribute here.
Interviews
The Yale Club is always looking for alumni to interview local high-school students who are applying to Yale College. If you would like to help out or learn more, please click here to e-mail our ASC director, Rebecca Haltzel-Haas.
Yale Book Award
If you interested in presenting the Yale Book Award at a high school in your area, please contact the club board.
Yale Club of Germany Prize
We are in the "quiet phase" of a long-term program to raise at least €20,000, with an eventual goal of €100,000, to endow this award for presentation to exceptional high school students in Germany who have been accepted to Yale. If you are interested in learning more about how you can contribute to this worthy effort, please contact the treasurer. Meanwhile, thanks to those who have contributed recently!
Contributions
The Club does not assess dues, but asks its members to make an modest annual contribution (€20 suggested, but any amount is welcome) to help fund Club activities such as the Yale Book Award.
To contribute, please arrange a bank transfer (Überweisung) to the following account and be sure to include your email address so we can send you your tax-deductible donation receipt:
Bank (Kreditinstitut des Begünstigten): n26 Bank
Payee (Begünstigter): Hans Christian Siller
IBAN: DE76 1001 1001 2621 3219 84
BIC (SWIFT): NTSBDEB1XXX
For any question regarding contributions, please contact our Treasurer, Hans Christian Siller.
Club Officers
President